Colombia is known worldwide as a huge coffee producer, they also claim that their coffee is the best. This serious self-designation shouldn't be taken lightly and therefore it was crucial for us to visit a coffee plantation while we were in Colombia. What? It wasn't a self accusation but it is worldly known? Well, it just makes a visit to a coffee plantation while in Colombia even more crucial, innit?
Colombia is the third biggest coffee producer after Brazil and Vietnam. Indonesia lays on the 4th in this rank. The Colombian Coffee region is known as Eje Cafetero or the coffee triangle, and do you know that in 2011, this region was declared as the "Coffee Cultural Landscape of Colombia", a World Heritage site? Well, now you know and you're welcome :) This coffee triangle is made up by tree main coffee producer areas: Caldas, Quindio, and Risalda. We went to Quindio area and stayed at Salento, a calm village in the north-east of Quindio. Check out my article about the village here.
There are few coffee plantations (or what they call it as fincas) located just about half of an hour from Salento. We decided to visit finca El Ocaso, a coffee plantation run by a family from generation to generation. El Ocaso has 6 coffee tours in English that start every two hours and the earliest starts at 9 AM. The regular tour fee was only about 4 USD per person and the tour itself lasted about an hour and a half.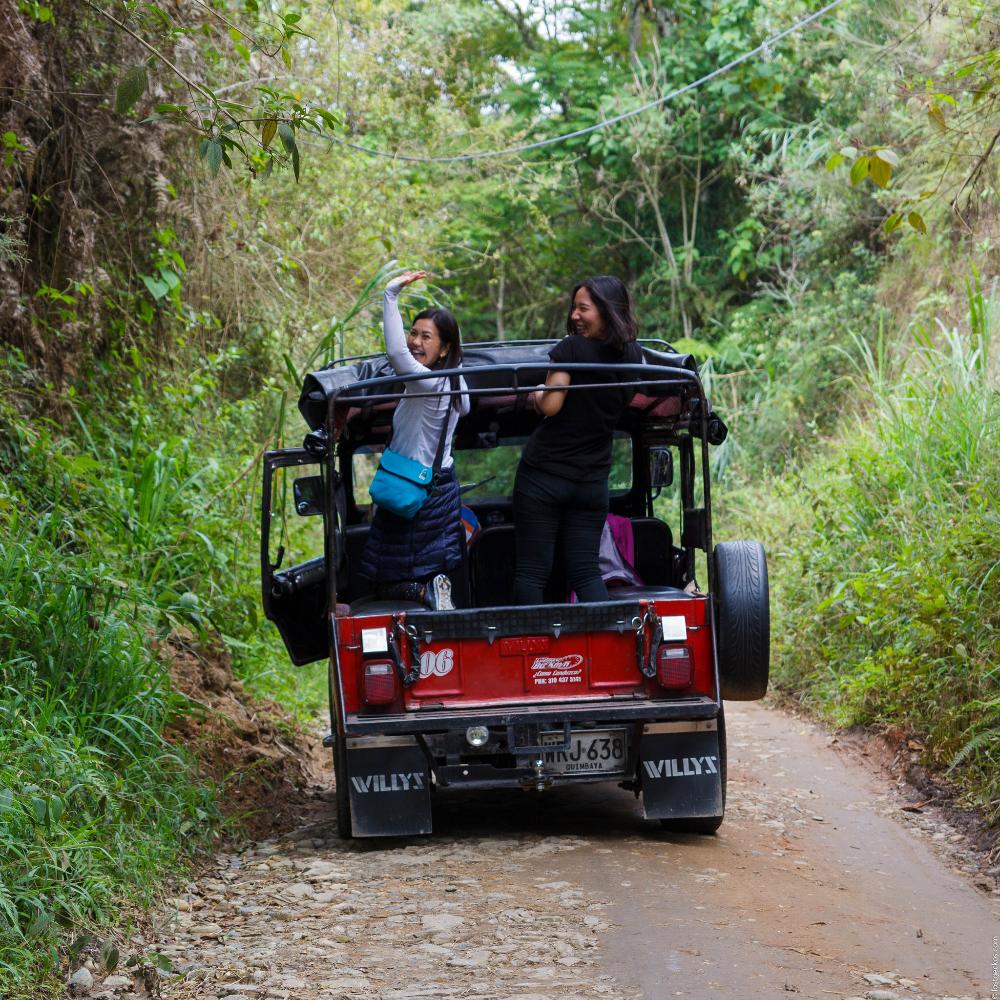 How to get there
El Ocaso is located only 4 KM away from Salento, but since my tush wasn't permitting me to walk, we rented a Willys from Salento mainsquare (plaza) for about 25$ for both of us, return trip. (in the high season, you could share the cost with other passengers that are going to the same place).
Standing on the back of the Willys seemed to be somekind of an adventure itself for tourists. They seemed to wait until the willy is full so they didn't have any choice but to hop on and try their best to latch themselves onto the jeep. Some even rent the Willys for themselves just to be able to experience that, like the pic shown here.
I, on the other hand, grew up in a third world country and I had my fair share latching on a running vehicle. I had to do this every now and then in high school as my only commuting option. So I could say "been there, done that, bought the T-shirt", and no, I was not interested to do it all over again although it seemed it's the cool way to ride a Willys.
The Willys drivers are very familiar with the coffee tours around Salento, they know which coffee tour starts at what time and they make sure you get there 15 minutes before the next available tour starts. I really love how simple it is to arrange activities in Salento. No hassle and no advance booking needed.
The tour
Our tour started at 1 PM and there were about 5 other people joining. Our guide, Jasmina, was very knowledgeable about Colombian coffee. The tour started with a 10 minutes quick class on how the coffee grows. According to Jasmina, Colombia mostly grows the mild and well balanced Arabica coffee beans. After the quick class, Jasmina let us plant our own coffee bean, which means in 15 to 20 years (if heaven permits), there will be a coffee tree in this plantation planted by a hot Indonesian. Ha!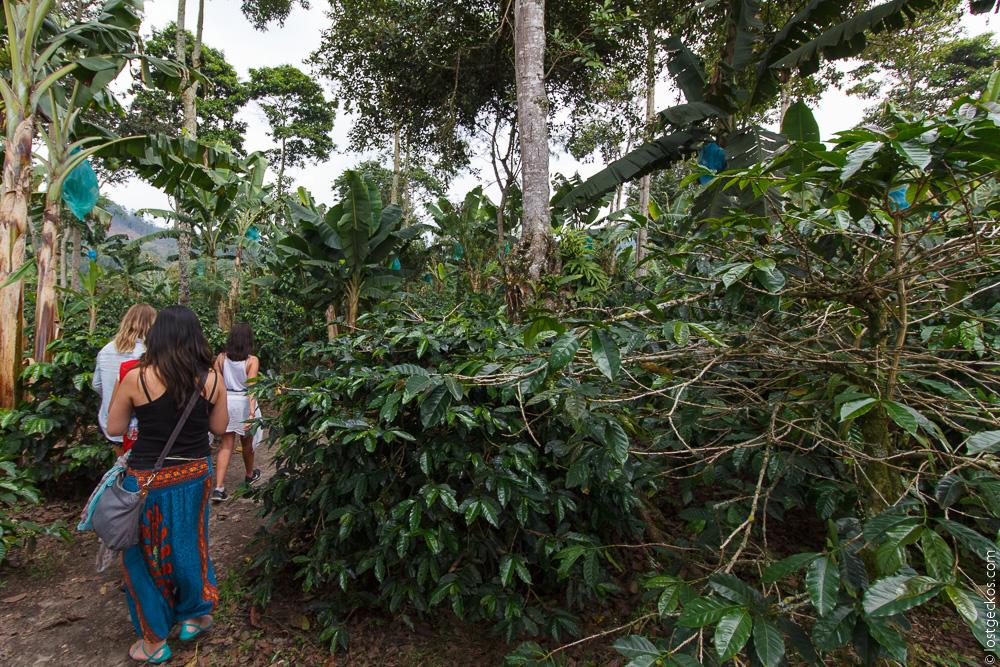 After that she took us to the coffee plantation itself. The plantation let's the coffee plants grow as naturally as possible. They plant banana trees among the coffee plants and these trees serve as bug repellent for the coffee plants and at the same time the leaves of the banana serve as canopy to protect the coffee plant from direct sunlight, as Arabica coffee beans don't grow well with too much heat from the sun.
Jasmina gave each of us a wooden basket fanny pack that we tied around our hips and she asked us to fill up the basket with red ripe coffee beans in 5 minutes. I got about 5 beans, and the others didn't do any better. We sucked as coffee bean pickers. In my defense, the tour group before us had picked all the beans, so there weren't much left..
If you ever wonder how many coffee beans does it takes to make a tiny cup of espresso, it takes approximately 40 beans. How do I know this? Jasmina told me.

In harvest season, this plantation cultivates hundreds of tons of perfectly ripe coffee beans. These beans will undergo a chain of process before it is finally bagged and sold around the world. High quality beans are mostly sold for export, which means most coffee beans sold IN Colombia itself is the 2nd class quality beans a.k.a the rejected-not-good-enough-for-selling beans. Sad truth.

All coffee plantations in Colombia are owned by Colombians themselves (cafeteros), and none are under any international company. Juan Valdez has become the trademark of Colombian coffee fair trade, so if you see this mark, it means it is 100% Colombian-grown and harvested coffee beans.

After learning how this Arabica magic beans are planted, grown, dried, and husked, Jasmina taught us how to prepare a cup of Colombian coffee. Different than the way the Europeans and the Middle Easterners prepare their coffee, the Colombians prefer their coffee to be thin and rather weak. Jasmina prepared us a cup of freshly brewed coffee, which honestly, was too mild to our taste, but very fragrant.
The overall experience at this coffee plantation was awesome, it's very interesting to know how our most favorite magic beans are produced. You see, the tour was very informative, active, and interactive. The kind of tour that would give you a memorable experience and at the same time broaden your knowledge. Loved it!