Fez or Fes, in which both writings should be read as FeZZZ (with big and multiple z, because it is that exotic), is full of charm and memories, especially its medina. Whose memories? Everyone's and every soul's that has lived or visited this magical place. I kid you not, the medina dates back almost a millennia. If you (are like me) think that millennia ago the earth was nothing but giants plants, dinosaurs, and flying lizards, well, apparently we both got it wrong, y'all. Fez medina has the proof for it, documented in the most beautiful ways.
Fes was our third destination in Morocco, and we opted to stay right in the heart of the famous Fes Medina. Fes Medina is a significant historical site in Morocco and it is divided into two main area; Fes el-Bali and Fes el-Jdid. It is the best-preserved Medina in the Arab world and it has been designated a UNESCO World Heritage of Humanity site. Fes el-Bali was founded between late 700 AD to early 800 AD by Idris bin Abdallah, while Fes el-Jdid was founded in the 13th century by the Merenids. See, I told you this place is ancient.
What the heck even a medina is, you may ask… Medina is the city center in Arab world and Northern African countries. It is the hub of activities of each city where all the good stuff going like trading, education, and all that jazz.
Fes Medina, not for the faint of heart
Fes medina, both el-Bali and el-Jdid is full of history, culture, art, food, and architecture. This medina is also one of the largest urban area that is a vehicle (four wheels and up) free zone in the world today. The main transportations allowed in the medina are, apart from your own two legs, carts pulled by animal/human, donkeys (the alleys are too small for horses), and small motorcycles.
With the vast array of shops, restaurants, tanneries, vendors tout, tourists bumping at each other, locals doing their daily live, and donkey traffic, there is always a lot going on at once. The smells, the sounds, the heat! Fes can easily become overwhelming to the senses, literally.
The medina consists of thousands of small shops and restaurants, houses, and a dense network of narrow alleys. Some alleys are so narrow that only small patches of direct sunlight touch the ground. It makes some alleys dark, muddy, and damp. On busier alleys, which you can identify by the density of foot and donkey traffic, large parts of the alley may be covered by canopies or rugs that are held open by the rug vendors. Its meant to block the sweltering summer heat, and at the same time an effort to decorate the alley itself.
Stepping inside the Medina is a step back to the medieval times. Most of the buildings are preserved the way they were since the beginning. But many of them are deteriorating because of their old age and lack of maintenance making us fear it might fall on our heads.
Don't bother to try to make sense of Fes Medina, get an official guide instead
I have been told that the best way to enjoy the mega labyrinthine medina of Fez is by plunging yourself into it and just get lost in it voluntarily…
Truth is, I don't need to be in a mega labyrinthine thingy full of small alleys all tangled up like a spider web to get lost, I get lost in life in general already. So whenever I have the option of having a guide that can show me (and explain to me) of how things work, I will take it. And that's how we did Fes Medina. IMHO, it is the best way to really get to know the Medina and its every hidden charm.
The alleys in the Medina are mostly unmapped and many are dead-ends. It twist and turn like an endless chain of pretzels, makes it very easy to lose your way and become disoriented. It is also hard to pick a landmark to identify your location because everything almost looks the same; the same style of old buildings, shops that sell basically the same products, same narrow alleys. Trying to locate yourself using internet and GPS is almost impossible since the concrete enclosed you away from the satellites.
Once we arrived in Fes and stepped inside the Bab Boujloud gate into the medina, we knew we wouldn't be able to get out of there alive cover the whole medina alone. It was way more hectic and chaotic than what Lonely Planet and those pretty travel blogs say, especially with the heat and the constant touting from shop vendors, made it unpleasantly difficult to find our way, nevertheless to enjoy the sightseeing.
Historical gems of Fes Medina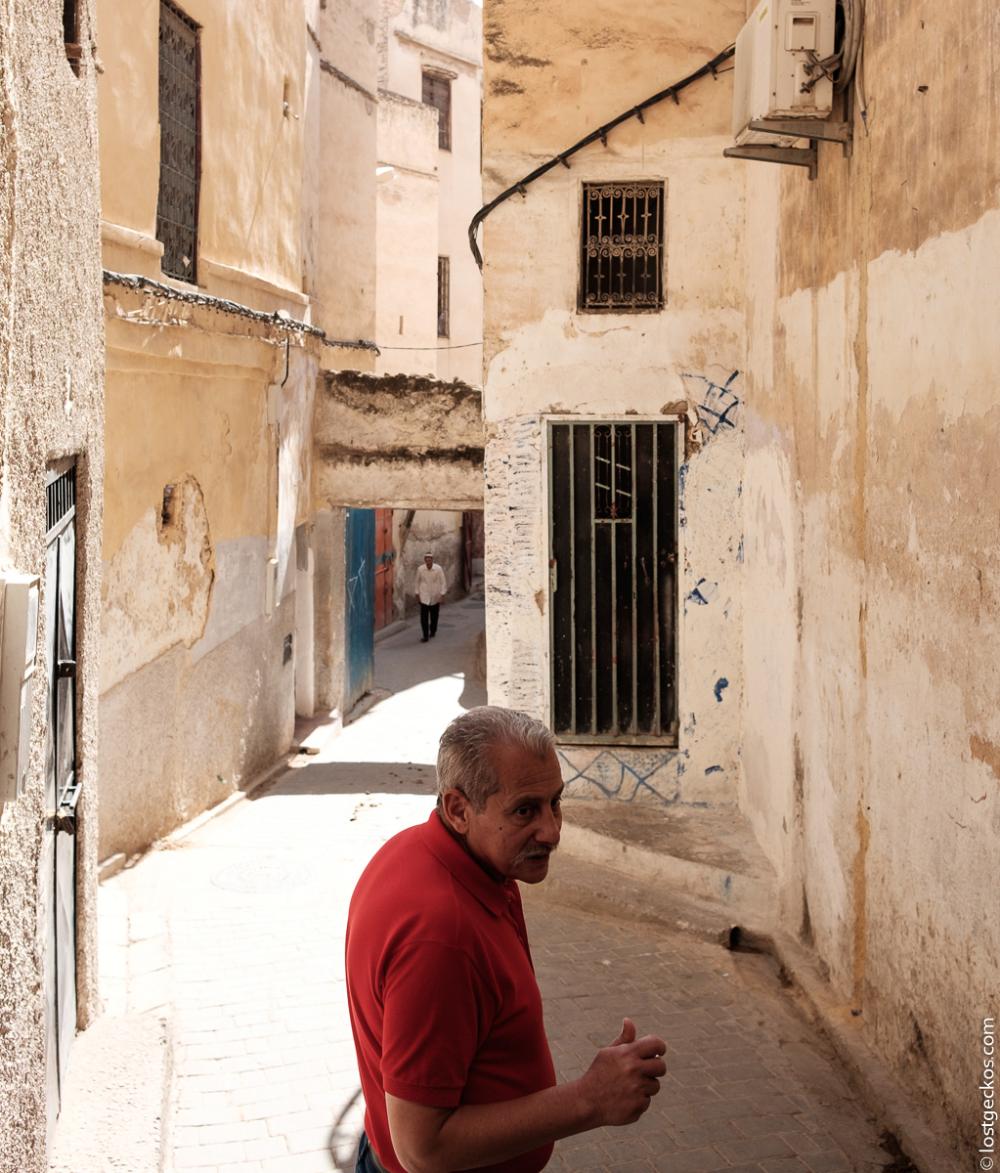 Our straight suggestion for anyone who wants to discover Fes medina is to hire an official guide. Most riads/hotels can arrange this for you. We took a full day private tour for 400 Dirhams. Fair price, frankly. Our guide, Amir (let say it was Amir, because honestly, I forgot his name), is a veteran official guide. He speaks perfect English and French, and he knows the tangled-network of the medina alleys like the back of his hand. He knows every corner, every shop, every story behind every building and monuments, and he (seems to) also know every people in the medina. We started the tour right after breakfast, around 9 AM.
Be warned tho, every official guide is ordered by the government to bring you to the obligatory sales points/collective shops of local products (rug, Argan oil, and tanneries/leather shops). Official guides do not get any comission from the shop, therefore they won't push you to buy anything. It's the aspect of knowing how the local products are made that they want you to see.
After a short introduction and me being finicky about having the tour strictly about the history of Fes and not visiting shops, Amir started the tour by asking us, "so, welcome guys, are you ready to get lost?"
Aw hell naw, Amir. That is not why we hired you!
1. Chouara tanneries from the 11th century
Tanneries are one of the most iconic places in Morocco, especially in Fes. The best time to visit this place is in the morning when the heat isn't so sweltering and the smell is (rather) bearable. Our guide introduced to one of the tanneries' assistant to show us around. A sprig of mints was given to help us with the stench of the tanneries.
From the upper terrace, we could see all the vats are filled up with raw animal skins. The tanneries keep their methods since the 11th century as much as possible. The vats are filled with water, pidgeon poops, and other natural ingredients to make the skin soft and supple. The workers work with their bare hand and minimal tools. Labor work, I must tell you. Working in tanneries is a way of living or a family tradition, being passed from generation to generation.
Not every house in this medina is big enough to have their own kitchen, therefore, in every quarter, there is a public oven where you can pitch your bread dough in the morning, and have it cooked before noon for 1 or 2 dirhams per bread. Each dough is marked with a simple symbol to identify which bread belongs to which family.
You will definitely miss this public oven place if you are not with a guide because it's mostly located in a residential area, in a dark corner that doesn't look so enticing to go through.
Medersa means a religious school. Bou Inania medersa was constructed in 13th century by Sultan Abou Inan. The floor was made of marble, the wall is covered by intricate mosaic work, and the foundation is supported by carved cedar woods, a clear fingerprint of the Marinid architecture.
4.
Al Quaraouiyine

university
Al Quaraouiyine

is the oldest, continuously functioning university in the world. How awesome is that?
The university was founded by a woman, Fatima al-Fihri, the daughter of a wealthy merchant from Kairouan, Tunisia in the 9th century. The university has an integrated mosque within, therefore, non-Moslems are not welcome to roam around inside.
How would they know if you are not a Moslem? They will literary ask you upon entering. Apparently, this is a common gesture. There are few other buildings that are not accessible for non-Moslem in this medina.
The Al-Attarine Madrasa is a madrasa in Fes, Morocco, near the Al-Qarawiyyin. It was built by the Marinid sultan Uthman II Abu Said in 1323-5. The madrasa takes its name from the Souk al-Attarine, the spice and perfume market. wikipedia
6. Souk Al-Attarine, spice and perfume market
This square was first served as 'caravanserai', roadside inns for the travelers and the nomads in the 18th century. Nowadays, this place serves as Art-work museum.
8. Place el-Nejjarine, the carpenter quartier
Most of the Moroccan wood work is made out of local cedar, and hand made by artisans often dating back from generations. Fes is known for its wood work. Even the Hassan II mosque in Casablanca got most of the interior wood work from the Fes.
9. Place Seffarine, coppersmith stalls , weavers corners and drug store
Moroccan rugs are the weaves, carpets, and textiles that have been traditionally hand-woven in Morocco. Rugs have been woven by the indigenous people of Morocco since the Paleolithic Era. Traditionally, Moroccan rugs have been woven by tribal peoples for their utility rather than for decorative purposes. Twentieth-century Moroccan rugs are widely collected in the West, and are almost always woven by tribes people who do not seek nor possess formal artistic training. wikipedia
Some cynics said that rug shops are tourists trap, especially because they don't see any tribal people (mostly women, from Berber ethnicity) weaving the carpet on the spot. Well, first of all, it's a shop, ain't a sweatshop. D'oh!
Here's how the rug business works between shops and the tribal artisans; Berber women, who mostly live nomadic in the desert, weave a rug and or make any other artistic item on their free time between taking care of the kids, herd their camels/sheep, and doing all other chores. A rug usually takes months to finish (the bigger, the longer to make). They drop their rugs at the vendor to sell every few months, they don't work at the shop, weaving a rug for your entertainment.

As I said earlier, an official guide will take you to government-appointed rug shops (collective shop) that solely sell authentic items from the local artisans. This kind of shops has a room with a loom and other weaving set to show you the process of making a Moroccan rug. They will also explain the types of rugs there are and the uniqueness of the pattern. There is no rug with the same pattern because each was made based on the artisans' imagination, based on the material they had in hand. Each pattern has its own story. The artisans usually put their family symbol on their rug, so you can tell which tribe made which kind of rug.
Not for the weak of heart, the market is often over filled with people and goods, making it a nightmare for those suffering from claustrophobia. But if your good at haggling and love checking out all kinds of unusual goods, this is the place!
Fes medina literary has everything you need; from restaurants, shops, to dentist. Yep, you can't miss it, just look for the display with sets of dentures in it. Care to veneer your teeth?