When we were planning the trip to Cappadocia, we thought we wouldn't go on any hot air balloon for two reasons: that ride costs a fortune (about 200$ per person for about an hour of ride) and I am afraid of heights. Oh wait, let me rephrase that, I am not necessarily afraid of heights, I am simply afraid of falling down. At a certain height, I have a disturbing tendency of feeling like I am about to throw myself down involuntarily. Like my body has its own mind, my legs feel like jumping free with my hands jazzing up in the air. My limbs are not trustable with my safety. Therefore, being up in the air with no security belts nor an engine to keep you afloat apart from a fire blower sounds a bit suicidal for me.

As soon as we arrived in Cappadocia, e.v.e.r.y. b.o.d.y was talking about the balloon ride. Apparently it is ZE Thing to do in the region. Almost all fellow travelers we met suggested us to get on the ride or simply go watch it soar into the sky. After hearing the stories of how beautiful it is up there, I told myself: Oh heck, everybody did that and survived to tell the tale, I might as well have it a go. Nico was not really enthusiast about the ride, he has been on a balloon ride before so he knows how it is. I made two bookings for both of us anyway for our last day in Cappadocia. Since balloon ride is one of the major activity in Cappadoccia, it was easy to make the booking. Almost all hotels in Cappadocia offer this activity.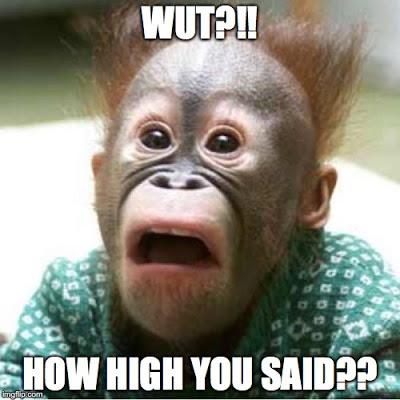 Have you ever been in a balloon ride before? This was my first and I didn't know that there's no safety belt or anything in it. It's just you, the other passengers, and the pilot in that floating gigantic picnic basket going up to almost 3000 ft above the ground. 3000 ft is almost 1000 meters, y'all! Cheesus, I should've been informed about this before I made the payment.
The balloons go up every single morning unless the weather is bad. I have been told that the take-off site changes according to the wind speed and direction and we had to be ready at the assigned site before sunrise. It was about 4 AM in the morning where the car hotel car came to pick us up and take us the site. I wasn't sure what was going on, 4 AM was 5 hours too early before my brain to actually work properly.

On the site, which I wasn't sure where it was exactly because I was sleeping all the way, was a desert-like wide plain of rocks and sands (very descriptive, ain't I??). We could enjoy a small breakfast with a cup of tea or coffee while waiting for the balloon to get ready.
It took only about 15 minutes to get each balloon inflated. Once the balloon was inflated we had to hurry to get inside that giant picnic basket and there was no door/opening to get in so we literally had to climb in. There were small holes on the sides of that picnic basket that could be used as steps. I hated myself for wearing a wrap-around skirt that morning.
The pilot gave us a 5 minutes lesson on how to be good air balloon passengers. He explained to us a few positions that he might ask us to do while we were up there and for the landing.
The flame which served as the primary source to get us floating (and keep us floating) was blissfully powerful. It made a big whoozing sound when they started the engine. It was almost a lil' uncomfortable being that close to such a big flame but that morning was a bit cold, so I kinda appreciated the heat that came out of it. Although when I think about it now, I could've got my dry hair burnt and I would have gone hairless like a bald parrot when we landed...
The take-off was pretty smooth, I almost didn't realize we were ascending, I was busy looking for parts that i could use to hold onto for my life. The basket was pretty high, like a bit above my waist, so I shouldn't really worry about falling out but I know how reckless I could be, especially when I am in a fatal accident prone situation or place.
It was a really nice ride, the pilot lowered the flame once we were at the perfect height, and simply let the wind take over the job. He only bursted the flame when we needed a boost. He was also very knowledgeable about Cappadocia. I liked it that he told us interesting facts about Cappadocia, explained every landmarks we saw from above, while at the same time kept us afloat. Speaking about multitasking, eh?
The ballons slowly fill up the sky and made a remarkable view by itself.
The views from above were stunningly impressive, so impressive that I forgot that I was afraid of heights. It felt somehow comfortable and safe inside that gigantic floating picnic basket. I enjoyed every second of it. Nico was glad that I dragged him to come along and he found the experience was awesome. I was happy that he came along too, he was my source of comfort when the ride got bumpy or whenever our balloon almost collided with the other balloons.
He did the job tho, well, with the help from the ground crew of course. This was why he was the pilot (and not me). When we got off, a table with sparkling grape juice (champagne style) was set out for us as a sweet end to finish our amazing morning (and for me to celebrate my first no-security aerial experience). They also gave us a certificate with our name on it, saying that we did a hot balloon ride. Heck yeah, I deserve a legitimization for concurring my fear of height in a written form!

Everything about this ride was interesting, even the landing part. I thought it would be bumpy with a slight chance of tumbling, which would be funny to watch but less funny if I was actually in it. We were starting to descend slowly above a dusty field where a jeep and trailer from the balloon ride company was already waiting. The jeep was actually following our balloon while the pilot was trying to land us on the back of its trailer.
I thought no way in gehenna that would happen, I mean our basket was slightly bigger than the trailer and how could you park such a huge bottom on such a small surface while trying to land at the same time?? I mean, I even have to look closely to a chair whenever I want to sit and hold on the handles before I park my bubbly butt on it, and sometimes I still fail.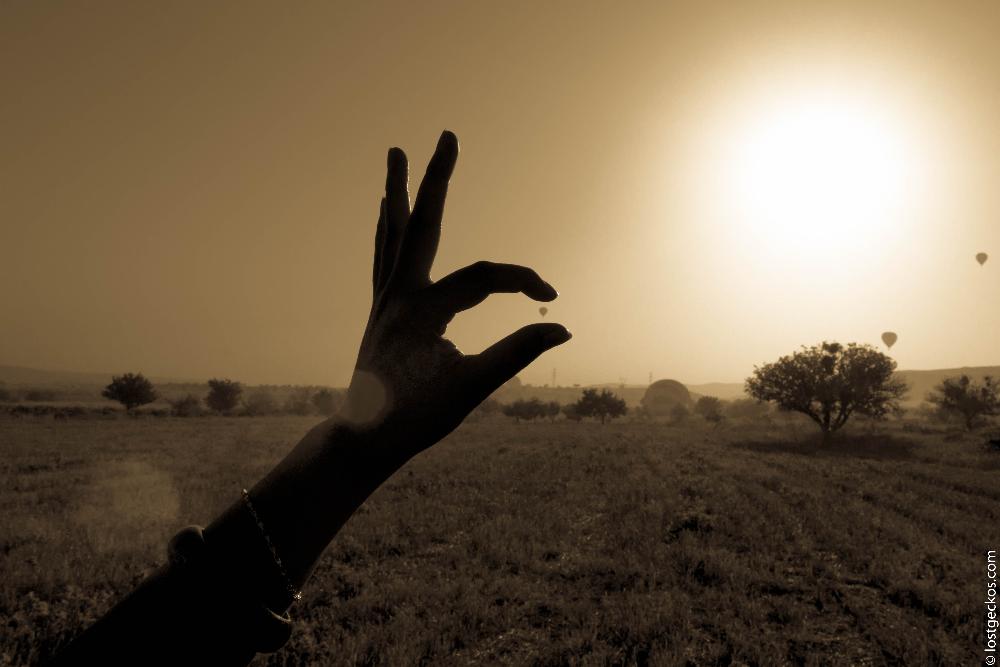 The balloon was deflated while we were enjoying our non-alcohol champagne. Before we know it, everything was packed neatly on the back of the trailer, ready to go back to the garage. Suddenly I realized we were a bunch of strangers, deserted on a dusty field in the middle of nowhere in Turkey. If I was left alone I bet I wouldn't know how to get back to the hotel, or even to get to the nearest public road in this case. But you know what, I just conquered my fear of height and all went really well. I feared nothing (that morning).
PS: if you think my acrophobia is cured by taking this ride, don't worry, I still close my eyes and run as fast as I can whenever I have to cross a hanging bridge.